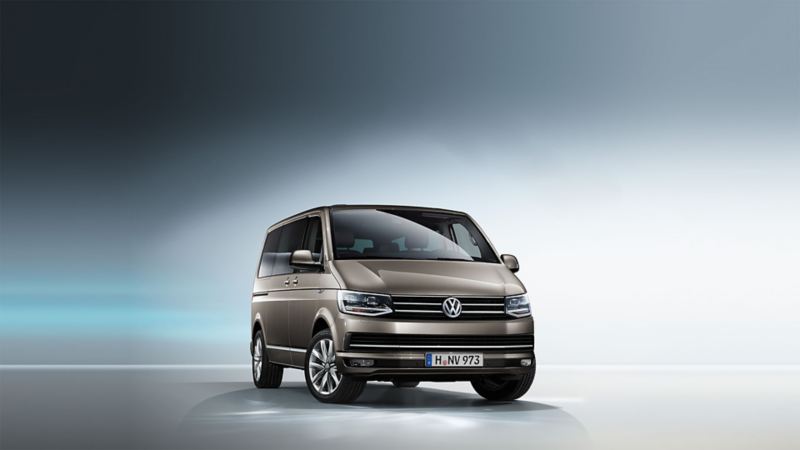 Multivan Kombi: 6 Generations of Fun
For global business and leisure with European safety and dynamics
The Multivan has been the perfect travel companion for over 65 years, accompanying drivers through the endless demands of everyday life and leisure time. Versatility, quality and perfection right down to the smallest detail – this is what makes the Multivan, and its four different equipment lines so exciting. The generous dimensions and flexible space concept support you in all your day-to-day plans. The distinctive design, high-quality interior equipment and state-of-the-art infotainment systems are proof of the vehicle's independence and style. Advanced driver assistance systems and exceptionally efficient engines are just another example of Multivan's many benefits.
Electrically adjustable driver seat, a multifunction steering wheel and numerous practical extras make every journey in the Multivan an absolute pleasure.
Space for maximum flexibility
With up to seven comfortable seats, you and your passengers will appreciate the ample head and leg room, even in the second and third rows of seats. Unique: For a rearward facing seating arrangement, the individual seats in the second row of seats can simply be rotated by 360 degrees in the blink of an eye – no complicated reassembly needed.
The Multivan features an efficient generation of engines compliant with the Euro 6 emissions standard. This means: you profit from especially low fuel consumption without having to forego driving pleasure.
Profit from an efficient drive system
The 2.0 l TSI engine with 150 kW is equipped with a direct injection system and an exhaust turbocharger.
Get in and enjoy the comfort
Intelligent mobile online services and multi-media connections, high-quality infotainment systems together with heating and air conditioning make the Multivan the perfect companion for everyday life and leisure.
Provides fresh air and light in the passenger compartment
Ventilation outlets in the headlining supply fresh air to the passenger compartment, and reduce misting over of the side windows. The integrated swivelling reading lights can be adjusted individually.
The Multivan offers practical driver assistance and safety systems which support you in critical situations, for example when parking or changing lanes, and much more.
Safety systems support the driver, helping to improve the safety and comfort of all vehicle occupants and other road users. Where necessary, the systems intervene in the driving process, and thereby help to reduce the risk of accidents on the road.