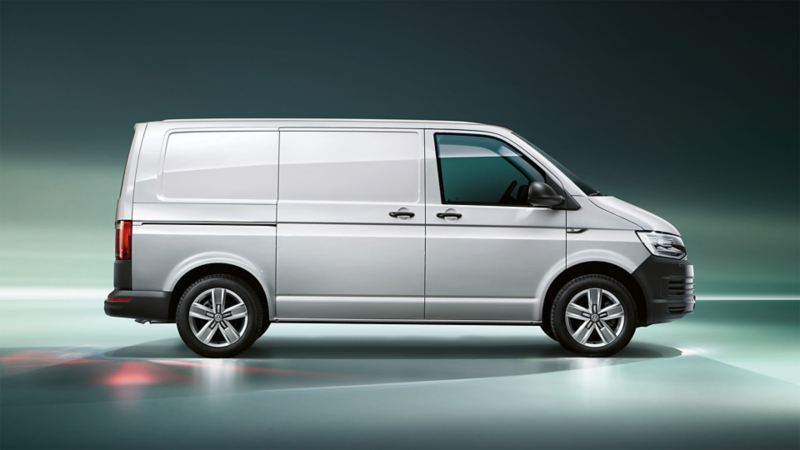 T6: Built Tough for a Tough World

For when the work is hard.
The Transporter has been rising to the challenge for 70 years. Every generation aims to use the available space even more efficiently, make difficult jobs easier, and safely stow the broadest range of goods. That is why the load compartment in the current Transporter makes no compromises when it comes to functionality and versatility. Outstanding workmanship is the foundation for efficiency and ensures that the van can always handle the challenges it faces. The durable upholstery is perfectly designed for frequent entry and exit. The sound-absorbing rubber flooring in the passenger compartment is easy to wash.
As flexible as your requirements
The Transporter adapts perfectly to every task: The Transporter is available in 2 versions: Transporter Trader and Transporter Premium. Plus, numerous additional equipment options let you configure the Transporter Trader or Transporter Premium to exactly match your specific requirements.
From top to bottom, the Transporter leaves no wish unfulfilled. Depending on wheelbase and seating package you can use a load compartment volume from up to 6.7 m³.
Advanced engine technology
The Transporter engines of the new generation comply with the Euro 6 emission standard and provide convincingly low fuel consumption.
Extra low fuel consumption with even more power
The new latest generation of engines offers impressively low fuel consumption with every unit – and all without dampening driving pleasure. The 2.0 l TDI engine with up to 150 kW is especially powerful, yet also economical.
High-quality infotainment systems along with modern heating and air conditioning make every journey in the Transporter highly comfortable.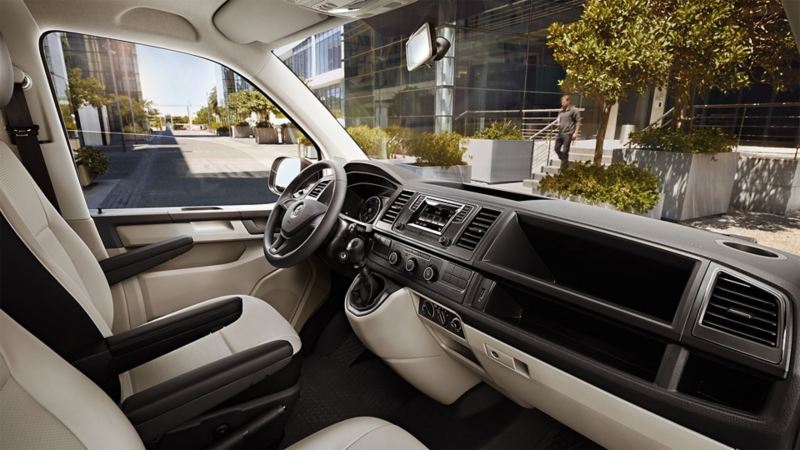 Heating and air conditioning
Always enjoy a comfortable climate
The modern air conditioning system adjusts the interior temperature in a matter of moments and also provides cool air on hot days.
Arrive at your destination well entertained
The Transporter provides the best entertainment and guidance with the latest radio systems. Their highly user-friendly operation, best connectivity and good sound let you enjoy your daily routine.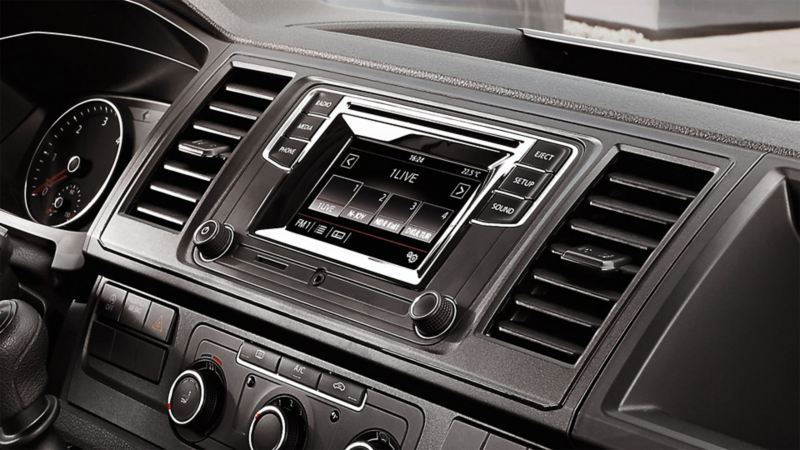 Innovative driver assistance and safety systems support you in critical situations and help you to avoid dangers. Look forward to a true all-round talent.
This intelligent technology will inspire you
You are prepared for almost anything with the safety systems in the Transporter: Where necessary, the systems intervene in the driving process, and can help to reduce the risk of accidents on the road.